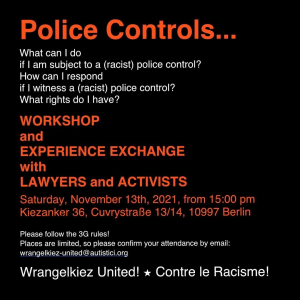 German
Who doesn't know this feeling?
Yet another police control, yet more heavily armed police officers surrounding the person under inspection. Yet again I feel powerless and unable to act. What can I do, if I am subject to a (racist) police control? What can I do if I witness a (racist) police control?
I should react, but how?! What can I do? What am I allowed to do? Will I then be subject to problems and stress myself? I don't even have any time. I would much rather do nothing right now…
But the feelings of anxiety, anger, helplessness, and dissatisfaction remain.

This is also the case for us and many other people in our neighbourhood, but we can still be proactive. For this reason, we have taken a closer look at the topic, held workshops with lawyers, and exchanged a lot of ideas with them.
We want to share our thoughts and experiences with you and make space for questions, conversations, insecurities and ideas for anti-racist praxis and solidarity.
A lawyer will be present to tackle legal aspects and questions.
We want to exercise and empower ourselves: what can we personally do? And where are our boundaries?
Please confirm your attendance by email if you would like to take part. wrangelkiez-united[at]autistici.org Due to corona, places are unfortunately limited. Please follow the 3G rules.
Workshop: 13.11.2021, 15:00, Kiezanker, Curvrystr. 13/14